Denver Unika 5 Axis HT or FAB is a versitile work horse.
The Unika 5 HT can be used in shops with limited space as an all in one machine.
The Unika 5 FAB can be configured to suit each customer's needs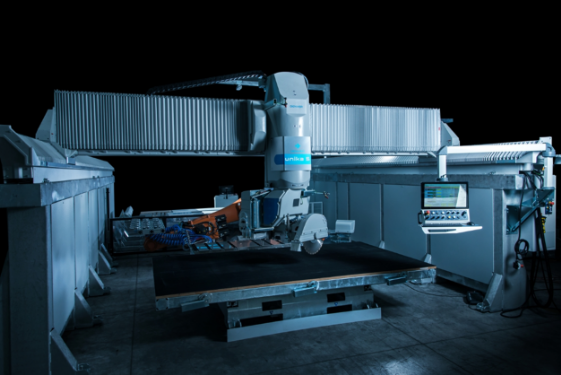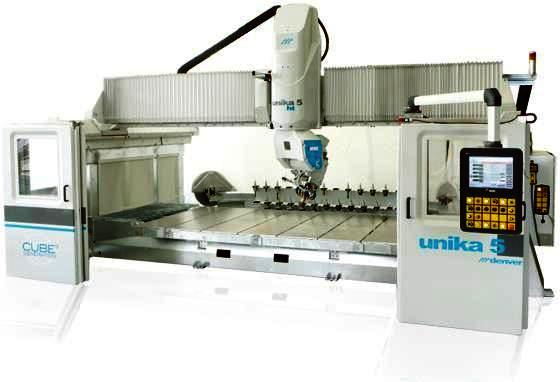 The Denver Unika , the most up to date stone machining solution offered by Kristech Services.
The Unika is a versatile CNC machine that can handle all types of stone processing tasks, from simple shaping to intricate carving.
With its high-speed spindle and advanced software, the Unika can achieve precision and accuracy that was once unimaginable.
It comes with a range of features including automatic tool changer, vacuum system, and a user-friendly interface that makes it easy to operate.
UNIKA 5 HT is a 5 axis CNC machine that offers a triple advantage:
•The sturdiness of a heavy-duty bridge saw.
• The accuracy and capabilities of a high-tech CNC center.
•A high yield investment enabling the stone worker to meet any processing need.
Available with a wide range of motors, from traditional powerful air-cooled to state-of-the-art ISO40 electrospindles.
The CUBE configuration with electrospindle and automatic tool and saw blade magazine offers the possibility
to process kitchen tops,
furniture elements, shower plates, artistic carving and much more in a fully integrated cycle, from the raw slab to the finished product